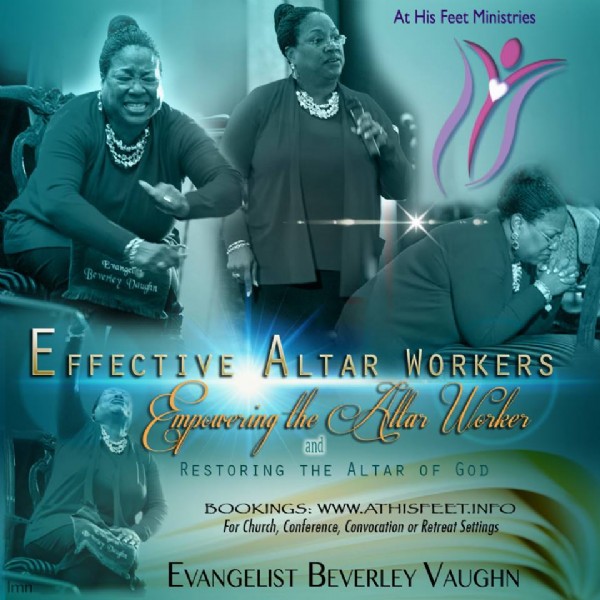 Click to Download a (2) Audio Training Overview
Altar Worker Seminar Sessions Outline and Basic Information
Topics: Basic Etiquette, What To Expect, Understanding Discernment, Spiritual Warfare, Witnessing to this Generation & More! For more information or Booking: 203.302.0121 bevvaughn@atHisfeet.info
On average in America, 2.2 million people die. Of these about 1 million (based on what we believe) will end up separated from God for eternity. When we are not equipped to evangelize effectively the people who come to our churches, or who cross our paths we are left (not accountable for their choice to reject Christ) but for our lack, and for our not seizing opportunities that Gods sends our way to help us to be as effective as possible in leading seekers to Him. Effective Evangelism Seminars for you, your church, your conference, or your event has come to your doorstep!
Basic Altar Etiquette deals with:
An altar worker as a disciplined and trained believer. A person who has walked with the Lord long enough to know how to be under the control of the Holy Spirit in the situations of life and even in a crisis. Rom. 8:14 led by the Spirit. Hygiene, Attitudes, Attire, how to hold people, where hands are laid etc.
What to Expect at the Altar deals with:
People coming to our altars today, from teens and adults with no church experience, street people, backslidden, those abused emotionally and physically, mentally challenged etc.
Understanding Discernment deals with:
Training on discernment, hearing God, Communion with God at an altar, and a little on spirit realm.
Spiritual Warfare deals with:
The enemy and his tactics at the altar, recognizing the enemy, the difference between flesh and spiritual reactions
Background on other religions deals with:
Basic information on other faiths beliefs and making sure you dont get caught up in jargon at the altar. Provides basic knowledge of other religions.
Witnessing to this generation deals with:
Trends and times we are in currently, what works today, and what doesnt.
*Sessions are subject to change due to the leading of the Holy Spirit and what He deems needed for a particular group!
You may choose specific areas you would like dealt with or an entire overview session.
An entire overview session must be facilitated over four days.
Generally session are facilitated over two days.